The Mod Nation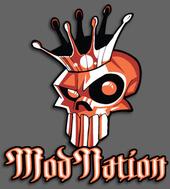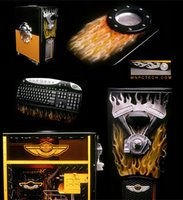 Being an avid Harley Davidson fan and rider, last night I went in search of adding some more pictures/images to my profile on myspace (like I don't have enough... LOL) - myspace.com/mamabear369... In my quest to find some
more photos, I stubbled upon a website that personalizes gaming cases... it's a Harley Davidson 100 Years Game Case from The Mod Nation. I also saw that they had another "camo" gaming case... One day I would like to own one, if not both, of these cases for myself.
In researching some more information about "The Mod Nation", I came to found out that the owners were two good friends that merged their two companies into one (Kikboxes and MNPCtech), forming "The Mod Nation, One Nation Under Mod."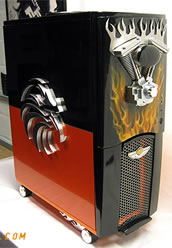 Kikboxes started with a single project. During the summer of 2005 Stu King set out on a quest to build a pimped computer for the LAN group he was involved with. Until that time he had never considered the idea of expressing his artistic talents on a computers case. A web designer by trade, Stu had always used web design as his artistic outlet until the day his friend Matt (now business partner) put together a new system in a gleaming red RaidMax case. The idea of building a system as art was very appealing to him because of its great mix of mediums.
That summer, Stu started his first official project, the BooomBox, and never looked back. The BooomBox is a Wave Master case powder coated and polished to perfection. Much research was put into each mod and part integrated into the project. During his research Stu found MNPCtech right in his own backyard. Bill and Stu got together one evening to swap parts and the rest is history. Bill and Stu began trading phone calls to talk about computers, processes, the industry and modding culture.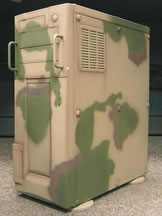 Upon completion of the BooomBox Stu started getting calls and emails from other modders looking for powder coating services, parts and advice. Recognizing a good business opportunity, Stu brought his good friend Matt Kelly on board to assist in building the business.
Stu began to rapidly explore many areas of modding including airbrushed designs, mass production and even stealth PCs. Over the years Stu has worked with many artists whom he now counts among his friends. Many of these talented people have been featured in his projects from airbrushing, to sculpture, to powder coating. Kikboxes body of work has grown rapidly and exhibits a wide array of ideas, processes and techniques.
In 2006, Kikboxes was commissions to design the enclosure for a line of wireless routers and later that year, was incorporated. Since that time Kikboxes has begun creating custom cases for Xoxide.com, produced a line of production cases (The Modjitsu) and has begun building a presence on eBay selling cases, custom painted mice, wheels and more.
Partnering with his good friend and fellow modder Bill Owen (MNPCtech), Stu has contributed to the rapid rise of The Mod Nation. A project devoted to their work and the mission of nurturing the modding community, The Mod Nation promises to be the driving force that pushes the craft of modding beyond the realm of the hobbyist and into the domain of the artist and professional.
Kikboxes Custom Computer Craft has only begun to explore computers as art. Look for more great projects and products in 2007 and beyond. MOD FOR LIFE!
Labels: art, camo, cases, computers, Gaming, harley davidson